Kota Bharu
welcome to
10 Places I Visited in Kota Bharu, Kelantan
Published on January 27, 2012 | by jipp-world.com
Kota Bharu in the Malaysian state of Kelantan ain't short of places to visit. I managed to sneak out from my job assignment and tip-toed my way to some of them when I was there last week.
1. Wat Photivihan
I was so fascinated by the fact that the so-called Islamic state of Kelantan actually has quite a number of temples so when I first heard about a giant reclining Buddha in Tumpat, I knew I had to go there on my very first visit to Kota Bharu.
It really was huge then. Heard many people go there to ask for 4Ds but of course that's completely another story.  😀
2. Wat Machimmaram
Thailand, Laos, Myanmar, Cambodia and probably Vietnam might have the majority of Buddhism practitioners in the region but the idea of having the tallest seating Buddha in South East Asia is something that was quite unexpected from a country that has always considered itself a Muslim nation.
Even more fascinating is the fact that it is located in Kelantan where 95% of its population is Muslim. You might want to check out the gallery inside the temple when you go there.
3. Masjid Kampung Laut (Kampung Laut Mosque)
I was brought here by a pakcik with whom I had worked all throughout the week and whose company I was so glad of having.
The size might not be that whoa-ing especially here in Malaysia which is full of oversized mosques but the fact that it is 300 years old and it was built without a single piece of metal on it was very much of a wow to me.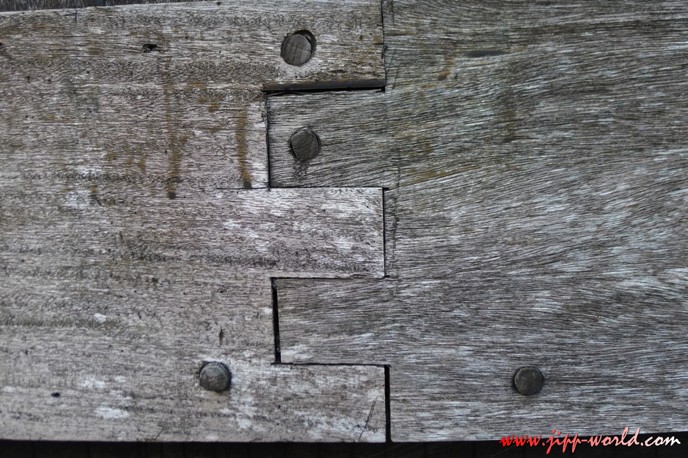 You might want to know how the idea of building it had first come about.  It was such an epic story but of course I'd leave that for you to find out. LOL.
4. Wakaf Che Yeh
Wakaf (a drop-by hut in Malay) Che Yeh is probably the most visited night market in Kota Bharu and probably Kelantan as a whole. It has just about everything up for grab and most of the shops open until late at night – some even til morning.
If you're into brands, rest is assured for you because they do have just about every brand that you can think of. Nike, Puma, Adidas or even Gucci – you name it. They've got everything. Whether they are ori or not is another thing la. LOL.
5. Pantai Cahaya Bulan (PCB)
Pantai Cahaya Bulan is the nearest beach to Kota Bharu so you can imagine how it is such a favorite spot for a weekend getaway among the locals there.  But then, we are talking about Kelantan so you'd be stupid to come here expecting to see sexy ladies in bikinis and all.
Formerly known as Pantai Cinta Berahi, it suddenly came to the Chief Minister or Tok Guru as he is fondly known that the name was too erotic for a town that aspires to be The Islamic City of Malaysia and he changed it to Pantai Cahaya Bulan as it is known up until today.
If you suddenly feel bored and want a little bit of trouble, you can keep walking to the North and sneak into Thailand and if you're lucky, you'll get arrested by the border guards. Believe me, your boring days would be over by then.
6. Pasar Siti Khadijah
Pasar Siti Khadijah is probably the most famous market in Kelantan for all the good and bad reasons. The controversies that surrounded its re-location had once brought it to the headlines but of course they are all the things of the past now.
Pasar Siti Khadijah is now back to its glory and everybody seems to come here to buy their household needs and all.
7. Pusat Batik Kelantan
One of my main targets upon visiting Kelantan was to buy at least a couple of Batik dresses and I couldn't think of any other place to buy it from but Siti Khadijah – until – I was brought to Pusat Batik Kelantan.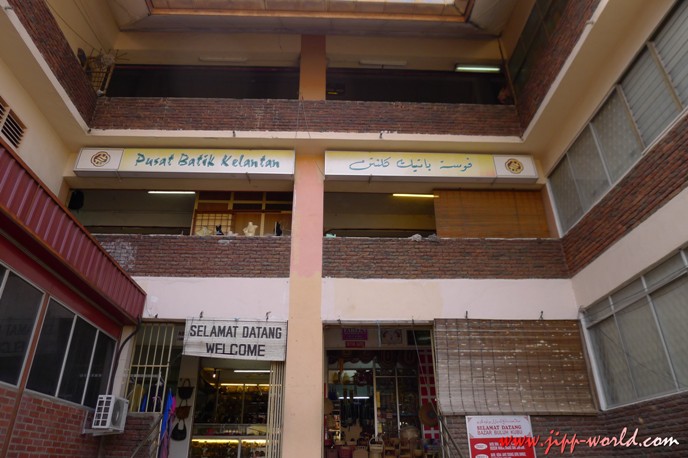 Not only it offers more variety in Batik designs, the arrangement and spaciousness of the shops and boutiques make it much more comfortable to be walking around in and your shopping is much more convenient to do compared to Pasar Siti Khadijah where you'll have to bear rubbing shoulders with other shoppers.
8. Istana Balai Besar (The Grand Palace)
Another place that I was brought to but too late to make my entry into. I wished I had come earlier but of course there was always another time.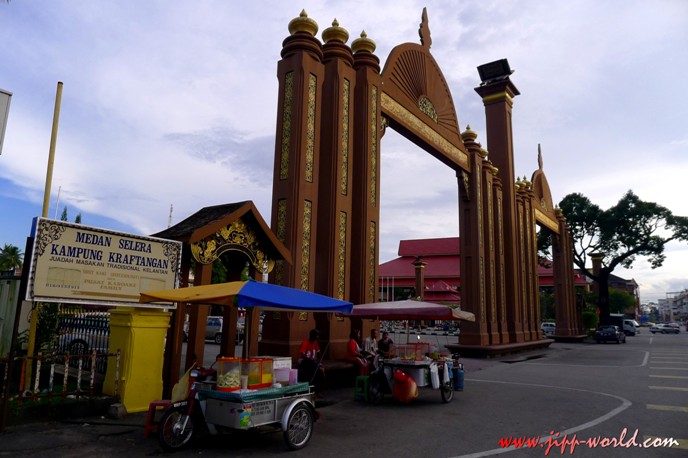 9. The King's Residence
Oh well, I'm not sure if this is gonna put me into any trouble but I actually visited the King's residence while I was in Kota Bharu.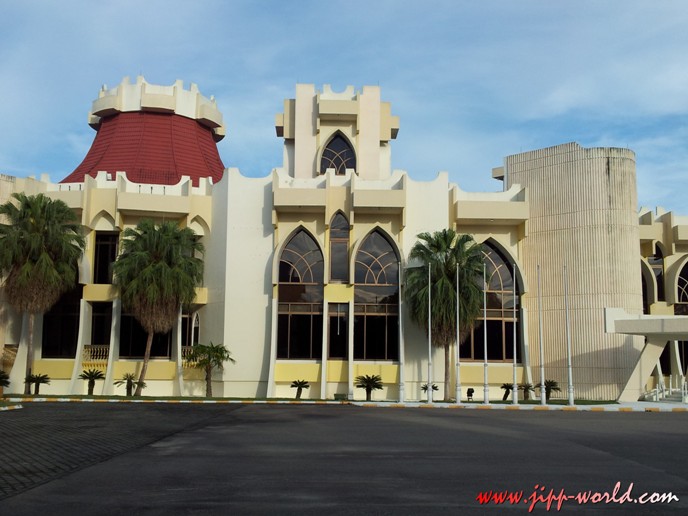 Of course a King's Residence is not a place that we can just barge into but strange enough, the mere mentioning that I was from the land of far far away ( Sabah – obviously. heh) seemed to have brightened  the security guard's face at the guard house. "Dari Sabah bah! (from Sabah??)", he said excitedly while extending his hand for a hand-shake and later a green light.
The palace, as I had come to find out was still under renovation so it was almost empty. The new King had commissioned for the fences to be replaced with brick walls and all. Heard the former King had a passion for keeping animals within the palace compound but they might be placed in some other place at least until the royal family comes back to reside here.
10. Istana Mahkota
Due to so many stories swirling around about the royal family of Kelantan, it has become one of the most closely-watched royal families in the country. The new King has just been enthroned quite recently to replace his long ill father and there had been so many stories being passed around although most Kelantan  people don't really talk about it.  Since I was in Kota Bharu, I decided to pay him (the ill father) a visit.
Too bad the gate was locked in the most unwelcoming fashion so we didn't get to see him. But then, I don't think I would have had the gut to see him if the gate was gaping open anyway.
What most people probably don't know is that he is married to a Thai woman. Heard she was the one who ruled the state and not the … OK, I didn't say that. 😀
Kota Bharu didn't disappoint me at all and I believe I had not discovered everything that it had to offer. In fact, I'm already planning my next visit to this marvelous town – this time as a real traveler who comes to see what he has come to find out.